Jacob Floyd – Coach/Owner
Born and raised in London, KY, Jacob Floyd played football at North Laurel High School as well as Cumberland College (University of the Cumberland). He left Cumberland to serve in the Marine Corps Infantry from 2005-2009. Jacob deployed to Iraq twice during Operation Iraqi Freedom. After completing his four years in the Marine Corps, Jacob was discharged honorably and attended Western Kentucky University where he received a bachelor's degree in Biology. While living in Bowling Green, Jacob discovered CrossFit and the amazing community it offers its members. He has been a certified CrossFit trainer since 2013.
Born and raised in Harlan KY, Derrick Watkins played basketball and baseball at James A. Cawood High School. He joined the Kentucky National Guard as a junior in high school and went to basic training during the summer before his senior year. After high school Derrick went back to finish his infantry training a Fort Benning before being deployed to Iraq that same winter. He served one combat tour from December 2006 to October 2007 in Baghdad, Iraq. After his deployment he came back and began school at the University of the Cumberlands studying Exercise Sports Science and Public Health. After graduating he started his masters in Physical Education and starting teaching P.E. and Health at Black Mountain Elementary in Harlan. He has been doing CrossFit for two years and received his CrossFit Level 1 in 2014. He coached at CrossFit Prodigy and has trained high school and college level athletes for the past 7 years.
Jason K Back
Entered the USAF out of High School and served during Desert Storm at locations around the world. After the Military I returned to Laurel County and have lived and worked here since. I began in Marital Arts almost 20 years ago and hold belts in multiple styles to include a Purple Belt in Gracie Brazilan Jiu Jitsu. During this time I fell in love with exercise and was introduced to Crossfit. I worked out in the style and format of Crossfit for many years until I had the opportunity to join a Crossfit affiliate almost 6 years ago. Since then I've had the good fortune to train at numerous Crossfit Gyms and in 2016 I received my L1 Trainer Certification. What I enjoy most about coaching in the gym is when people learn to trust the technique and then exceed what they perceive to be their limits on weightlifting.
Crystal
Crystal moved to Kentucky in elementary school and graduated SLHS in 1999. After high school she received an associate degree in nursing from Somerset Community College and has been employed by Kentucky One Health for 17 years most recently in the Emergency Department. Crystal developed a love for fitness and training others after a medical diagnosis inspired her to change her life in 2009. Once discovering the Crossfit methodology and sense of community she received her L1 crossfit trainer certificate.
Zach McGeorge
Zach McGeorge comes from Manchester, ky where he was born and raised. Zach played multiple sports throughout high school, but found himself falling in Love with CrossFit while in college. There, he noticed that everyone was treated equal in CrossFit atmospheres, which is what still drives him today--to serve anyone and everyone of all fitness levels. Zach brings experience from the endurance community when he was employed as a coach at Cycle You triathlete training center in Lexington, ky, along with a strong background in CrossFit as he is an avid competitor.
Zach offers nutritional advice, as he is a certified nutritional specialist, getting his credentials from the National Academy of Sports Medicine, along with his group personal training certification.
Zach offers nutritional advice to our clients, with prices varying depending on that clients needs and wants. For more information, contact zach at 1 (606) 813-3649, or by email at ztmcgeorge14@gmail.com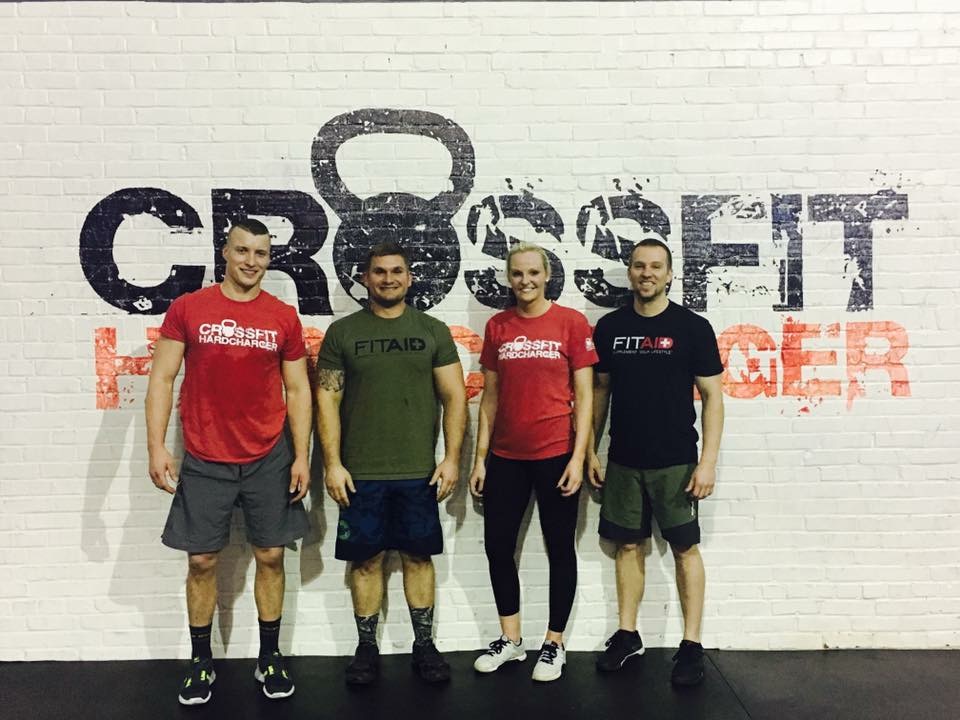 Neechie, Level One CrossFit Trainer from London, KY.
When I first started CrossFit I was extremely underweight for a girl of my height. I struggled to keep up with the perfect body image that society had preconditioned me to think I was supposed to have. It wasn't until I found CrossFit that I understood there are all types of body shapes and sizes and they are all beautiful. For the first time, I saw that it isn't about how much the scale says, but how much stronger you could become. It wasn't just physically challenging but mentally as well. That's where I found my passion to become a CrossFit Trainer; to show others that anything is possible with support and proper encouragement so we can prove society isn't always right. I have been a member of several CrossFit Boxes and am very happy to have finally found my home here at CrossFit Hardcharger. I have learned from the best around on how to coach and what a coach actually is. I have grown as a
CrossFitter and will continue to push myself to keep learning and growing.
Jeremy Baker
Jeremy reigns from Manchester, Kentucky. A little about Jeremy: Jeremy was clinically diagnosed with Crohn's disease in 2006. Surgery after surgery, doctors appointment on top of appointment, Jeremy found himself with extreme limitations on what he could ingest and even do physically. At one point, not knowing if things would ever be the same. In January of 2015, Jeremy reached out to a friend about CrossFit, and the rest is history. He is now healthy, strong, and able to eat/live/and enjoy life, in which he gladly shares his testimony. Jeremy is a family man, as he has a wife (Brenda Ann Baker) and a two year old son, Everette. In his spare time, he likes to hunt, shoot guns, grill out, swim, or basically anything outdoors. Jeremy is a vital part of our team and the mission we're accomplishing in London Kentucky.